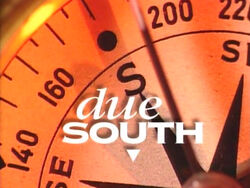 Due South is a Canadian television series that originally ran from 1994 to 1996 and from 1997 to 1999 as a spin-off. The original cast consisted of:

As the lead character, Benton Fraser describes the show's storyline best:
I first came to Chicago on the trail of the killers of my father and, for reasons that don't need exploring at this juncture, I have remained, attached as liaison officer with the Canadian Consulate.
Fraser became friends with a local detective, Ray Vecchio, whose sister, Francesca, was romantically interested in him. Although Vecchio was often confused by Fraser's strange way of doing things and Fraser was often confused by how things were done south of the border, the two had an amazing rapport and an incredible on-screen chemistry.
Due South was originally a made-for-TV movie on US television network CBS, with location shots done in Chicago, but most of the filming was done in Toronto. After the end of the 1994-1995 season, CBS dropped the show. As a result, CTV had to secure outside funding to finish off the year, even though CBS did order more episodes as a mid-season replacement in 1995-1996. The show was canceled in 1996 due to low ratings, with the final episode airing in Canada in May of 1996.
A year later, the production team resurrected the series for a 1997-1999 spin-off with funding from the BBC. While many of the cast from the original show returned, they were unable to secure Italian-American actor David Marciano to continue his role as Ray Vecchio. Instead, Canadian actor Callum Keith Rennie was signed to play Fraser's new partner, Detective Stanley Raymond Kowalski.
In the spin-off series, Benton Fraser returns to Chicago after a vacation in northern Canada, unable to understand why somebody else is pretending to be his old friend Ray Vecchio. After Lt. Welsh finally tells him that the real Vecchio has gone deep undercover with the mob, he accepts his new partner, Ray Kowalski. With his deaf wolf Diefenbaker in tow, the two join together to battle crime. The two actors had a great working relationship, and the duo went on to become a favorite amongst fans of the series.
Filming Locations
Edit
Due South's main filming location was the city of Toronto (Ontario, Canada) posing as Chicago. The surrounding Ontario countryside was also used for such episodes as North and All the Queen's Horses. Many of the Pilot's scenes were shot in the Yukon and Call of the Wild, Part 2 in Alberta.