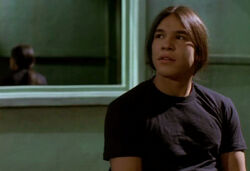 David Kitikmeot
was a Tsimshian teenager from Nakina, British Columbia who accompanied his uncle
Eric
to Chicago in 1996 to retrieve rare native masks from the Field Museum of Natural History. David was caught by
Constable Fraser
and Detective
Ray Vecchio
and then released because he was a minor. This was part of Eric's plan as he knew the masks were fake and hoped to find the real ones in the process. Eric and David cleverly managed to get the real masks and traveled back north to return them to the Tsimshians.
David Kitikmeot was portrayed by Cree actor Nathaniel Arcand.
Appearance
Edit
Ad blocker interference detected!
Wikia is a free-to-use site that makes money from advertising. We have a modified experience for viewers using ad blockers

Wikia is not accessible if you've made further modifications. Remove the custom ad blocker rule(s) and the page will load as expected.