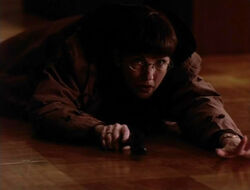 Daphne Kelly
was a Canadian Government representative who came to Chicago in the winter of 1996 to solve a dispute regarding a set of Tsimshian masks recently added to the Field Museum of Natural History. The Aboriginal people of Canada demanded the return of the masks, and Kelly was sent to collaborate with the Chicago Police Department when the artifacts were retrieved from the museum by Tsimshian activists
Eric
and
David Kitikmeot
. Daphne Kelly had ulterior motives, and in association with the museum's curator, had planned to steal and sell the masks. She had hired a forger to make a fake set to cover up her tracks, but murdered him later. She was found out by the activists as well as Constable
Benton Fraser
and Detective
Raymond Vecchio
who arrested her. The Tsimshians managed to run away with the real set, leaving the fake masks to the museum.
Daphne Kelly was portrayed by Canadian actress Deborah Tennant.
Appearance
Edit
Ad blocker interference detected!
Wikia is a free-to-use site that makes money from advertising. We have a modified experience for viewers using ad blockers

Wikia is not accessible if you've made further modifications. Remove the custom ad blocker rule(s) and the page will load as expected.